2 On the third day there was a wedding in Cana of Galilee, and the mother of Jesus was there. 2 Jesus and his disciples had also been invited to the wedding. 3 When the wine gave out, the mother of Jesus said to him, "They have no wine." 4 And Jesus said to her, "Woman, what concern is that to you and to me? My hour has not yet come." 5 His mother said to the servants, "Do whatever he tells you." 6 Now standing there were six stone water jars for the Jewish rites of purification, each holding twenty or thirty gallons. 7 Jesus said to them, "Fill the jars with water." And they filled them up to the brim. 8 He said to them, "Now draw some out, and take it to the chief steward." So they took it. 9 When the steward tasted the water that had become wine, and did not know where it came from (though the servants who had drawn the water knew), the steward called the bridegroom 10 and said to him, "Everyone serves the good wine first, and then the inferior wine after the guests have become drunk. But you have kept the good wine until now." 11 Jesus did this, the first of his signs, in Cana of Galilee, and revealed his glory; and his disciples believed in him. [John 2:1-11, NRSV]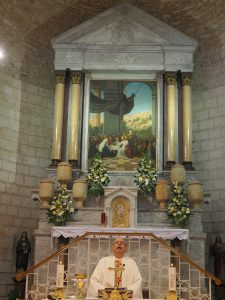 The Wedding Church at Cana, exterior and interior views. (Photo credit: Dr. LL Chan)
Many people, like ourselves and some close friends in this group, have been on a Holy Land pilgrimage more than once. Whenever the name Cana on the pilgrimage itinerary is mentioned, there is bound to be someone who immediately says there are two things you do there. One, you buy super sweet Cana wine; two, married couples renew their marriage vows in the Wedding Church.
The Wedding Church at Cana was built around 1881 in Kafr Kanna, and named in commemoration of what the Gospel of John calls the "first sign" worked by Jesus there for the newlyweds who ran out of wine. The occasion and setting was a wedding feast; the focus of John's narrative, however, was not about wedding, marriage, or family. It is about the first act in the Messiah's mission to fulfill God's desire for the union of God and humanity.
On this trip, something happened at the renewal of marriage vows that made the trip a whole lot more memorable. While the Cana wine remained the same – super sweet – and many bottles of it were seen carried into our tour bus, the renewal of marriage vow took a very serious turn  from the word go. Instead of the group marriage renewal commonly practiced, Fr. Albert opted for the individual couples to come up to the middle of the sanctuary to recite their vows anew. Knowing that the proceedings would take time and there was another pilgrimage group waiting outside for their time-slot, he also opted to forgo preaching a homily. As it turned out, the segment on marriage vow renewal was a moving "homily" and then some. All present at the time understood that when couples shed tears at the marriage-vow renewal, and shed tears some couples seriously did, even to the point of not being able to continue to read out the renewal-vow for some husbands, it had every bit to do with their concrete, shared, life experiences. Flashing through their minds were concrete, "thick", and particular human life-experiences that the couples have gone through together – their joys and sorrows, their achievements and difficulties, their celebrations and their struggles. Critical moments in concrete, human journeys, as always, hold the key.
Reflection:
All this, of course, cannot be further from the reality of the scene at Cana depicted by Saint John in the first eleven verses in Chapter 2 of his Gospel. To return to Cana and revisit what Saint John wanted to say about Jesus' words and deeds at the wedding feast, we shall complement our rather different experience at Mass in the Wedding Church at Cana, with a brief spiritual reflection on three points from the original Cana story in John 2:1-11.
1. Mary's Maternal Concern
According to the locals, to announce a wedding in a village during Jesus' time, a man would go round the village blowing a trumpet and inviting the whole village of some 40-50 families to come to the wedding banquet. People who came to the banquet expected wine to be served; that was the standard beverage at weddings. Without wine, people would talk, our guide said. "Men would talk; women would talk."
At the Cana wedding feast, a scandal was brewing, for the wine had run out. A scandal like this would be ruinous to the newlyweds. The bad news came to the attention of Mary. Her maternal instinct kicked in; she took charge of the situation immediately. She wanted to help the newlyweds to resolve a problem that was fast developing into a disaster and worse, a scandal.
Mary knew the best way to resolve the problem was to take it to her Son.
She knew her Son. She knew his heart of compassion, the heart that first beat in her womb. She knew her Son!
All she did was to say to him, "They have no wine" (John 2:3), and left the matter with him. So simple; so precise; so complete in her trust.
Mary knew her Son; she trusted him to do, in compassion, what he deemed best.
And, like a good Jewish mother, she turned around and said gently to the banquet servants: "Do whatever he tells you" (John 2:5).
That ever so familiar Catholic saying – "Through Mary to Jesus" – is so firmly rooted in Holy Scriptures right here.
The message to all Christians is, leave your problems with Mother Mary. She knows what to do. She will take them to her Son.
Notice the deep significance in the two gentle and yet highly concise utterances of Mary:
First, in whispering gently to Jesus, "They have no wine," Mary is the spokesperson for the people side of the divine-human relationship speaking to Jesus who represents the God side of the divine-human relationship. There, Mary represents humanity conscious of its lack, and confessing to God that it is hopelessly unable to live to the fullest without communion with God and help from God. In saying to Jesus, "They have no wine," she is not only expressing to God the haunting and poignant words of all human insufficiency without God's help. To all who are struggling with excruciating pain in life, they hear in Mary's words to God a reflection of

a suffering humanity's deep interior cry for help, a gripping silent lamentation of tortured souls

. They are unable to celebrate because

the wine of their lives has run dry

. They are badly in need of some concrete gestures of love, compassion and mercy, and not more judgment and condemnation, or indifference or some offhand smart advice! Today, we ought to open our hearts to hear this same resounding message from the Vicar of Christ, Pope Francis, who embodies the vision and character of God who is love, compassion, and mercy.
Second, "Do whatever he tells you" is the only recorded counsel of the Mother of Jesus to humanity in the New Testament, and it matches seamlessly with the very command of the Heavenly Father to the three disciples at the mountain of transfiguration where the voice of God spoke from beyond the clouds, saying: "This is my beloved Son; listen to him" (Mark 9:7).
In the event, John says water for ritual purification in six stone jars was turned into good wine. That really is a great deal of wine which experts estimate at around 600 litres. What wedding celebration needs 600 liters of wine? At a wedding feast in Cana, a fast-developing scandal of "no wine" was, through the intercession of Mary, transformed by Jesus into a scandalously extravagant supply of top-quality wine.
A point of great spiritual significance as well is that the Lord Jesus Christ transforms more than water and wine. He transforms people and their lives. He transforms whole communities and communal living, so long as we "listen to him" and heed Mary's counsel: "Do whatever he tells you".
2. Jesus' Compassion Saved the Day
Even though his "hour has not yet come" (John 2:4), Jesus performed the first "sign" in his public ministry at Cana, transforming water into wine. Upsetting his own schedule, but out of compassion, Jesus saved the day for a couple of newlyweds.
By speaking of his "hour" at Cana, Jesus points to his ultimate sacrifice on the cross at Calvary. Cana therefore is not self-referential; for the Johannine Jesus, Cana points to Calvary. And at Calvary, when Jesus is lifted up on the cross, he will draw all people to himself.
"

And I, when I am lifted up from the earth, will draw all men to myself

" (John 12:32).
The hour of Jesus' ultimate sacrifice shall also be his glory. The path "from sacrifice to glory" and "from pain to hope" remains the authentic Christian path.
Unlike the Synoptic Gospels, miraculous actions like changing water into wine are not called "miracles" in John's Gospel; they are called signs. A sign is not important in itself, but in what it points to. Calling them signs, John does not want his readers to be detained by them, but to pay close attention to what they point to. So Saint Augustine commented:
"As John himself says in John 20:31, his goal in writing down this sign is not that we should be amazed, or even that we should believe in Jesus. Rather his goal is that we should bond with Jesus / abide in Jesus – and receive for ourselves the life that is in Jesus."
As a sign, and not a miracle, the point is not "How did that happen?" but "Who did that?" A sign in John's Gospel is something that reveals who Jesus really is. So in John 2:11, the evangelist says: "This, the first of his signs, Jesus did at Cana in Galilee, and manifested his glory; and his disciples believed in him." Signs point to the glory of Jesus, that is to say, they revealed his honour and status with God.
At the same time, signs according to Saint Augustine are intended to invoke a bonding between believers and Jesus.  As the evangelist says in John 20:31, his goal in writing down this sign is not that we should be amazed, or even that we should believe in Jesus. Rather his goal is that we should bond with Jesus and abide in him, so that we may receive for ourselves the life that is in Jesus – life in abundance (John 10:10). John's goal is that "seeing" these signs will lead to life in all its abundance.
Paying scarcely any attention at all to the actual bride and groom, John's narrative is about the marriage of God and His people. The wedding feast without wine is the situation in which the old traditions of blind obedience to strict laws and harsh doctrines, like the empty ceremonial jars, have lost their power. In their place, God-in-Jesus brings the new wine of compassion and mercy that brings abundant life as it transforms lives where the wine has run dry.
3. A New Church at the Foot of the Cross
By Jesus' "My hour has not yet come", Cana points to the cross at Calvary.
At the foot of the cross, the scene of excruciating pain is transformed and glorified as well. And since this transformed scene comes after the ministry of Jesus, it points to the future, to the completely new, never-before, era of the disciples whom Jesus of Nazareth has left behind.
As it happened, Jesus on the cross gave Mary to the beloved disciple (symbolising all beloved disciples, therefore) as his mother, and gave the beloved disciple to Mary as her son, and the beloved disciple then took Mary to his house (John 19:26-27). Jesus on the cross established the Church at the foot of the cross, bringing into existence a whole new community of believing disciples with Mary in their midst. Jesus on the cross willed that the Church – the faith community of disciples that came after him – shall take Mary as their mother, bringing her into their hearts, into their community, into their homes, to honour her and to listen to her counsel. Mary, whom the evangelist John has indicated as standing out from amongst the disciples at Cana, has now by the will of Jesus the Christ, become the Mother of the Church and so becomes herself a model of faith and discipleship par excellence. That is the abiding vision from John's Gospel.
Copyright © Dr. Jeffrey & Angie Goh, September 2019. All rights reserved.
You are most welcome to respond to this post. Email your comments to jeffangiegoh@gmail.com. You can also be dialogue partners in this Ephphatha Coffee-Corner Ministry by sending us questions for discussion.