31 "Simon, Simon, listen! Satan has demanded to sift all of you like wheat, 32 but I have prayed for you that your own faith may not fail; and you, when once you have turned back, strengthen your brothers." 33 And he said to him, "Lord, I am ready to go with you to prison and to death!" 34 Jesus said, "I tell you, Peter, the cock will not crow this day, until you have denied three times that you know me. " [Luke 22:31-34, NRSV]
Engraved art work on door of Church of St Peter in Gallicantu.
"Gallicantu" is Latin for cock's-crow.  The church door shown here tells visitors that the church takes the name of "Church of St Peter in Gallicantu" to commemorate Peter's triple denials of Jesus. The Lukan verse 22:34 highlighted in Latin at the bottom section of the two-paneled door reads: "Non cantabit hodie gallus, donec ter abneges nosse me" (The cock will not crow today, before you have denied me three times).
Pilgrims to the Holy Land do not need any guide to lead the walk up to the church. Path-signs of a crowing cock draw laughters as they point the way. We may laugh a little less if we realize that the sign of a cock-crow which originally meant to signify Peter's imperfect love, is a strong reminder of our own imperfect love for the Lord.
Before Pentecost, Peter could legitimately claim bragging right in regards to neither fidelity to, nor perfect love for, his Lord. Indeed, the crowing cock is so troublesome, for it reminds us of Peter's shame. And yet, the crowing cock does not have to be a negative sign of shame and humiliation. Rather, standing best in its positive reminder of our common human weaknesses, it alerts and warns of our tendency to slip and fall short of the demands of Christian discipleship.
One can also take consolation from what the Bible suggests – that the Lord himself asked for no more than what Peter could humanly give at given stages of Peter's faith journey. In this, Scriptures always point to God's mercy and forgiveness.
Take, for example, the scene on the shore of the Sea of Tiberias when the Resurrected Christ commissioned Peter to take care of His sheep and lambs. Saint John provides us with the details, but because English translations do not render the exact play of words and so miss the different layers of meaning embedded in the original Greek text, we now insert the actual Greek words for love:
1

5

When they had finished breakfast, Jesus said to Simon Peter, "Simon son of John, do you αγαπας (agapas) me more than these?" He said to him, "Yes, Lord; you know that I φιλο (philo) you." Jesus said to him, "Feed my lambs." 16 A second time he said to him, "Simon son of John, do you αγαπας (agapas) me?" He said to him, "Yes, Lord; you know that I φιλο (philo) you." Jesus said to him, "Tend my sheep." 17 He said to him the third time, "Simon son of John, do you φιλεις (phileis) me?" Peter felt hurt because he said to him the third time, "Do you φιλεις (phileis) me?" And he said to him, "Lord, you know everything; you know that I φιλο (philo) you." Jesus said to him, "Feed my sheep. 18 Very truly, I tell you, when you were younger, you used to fasten your own belt and to go wherever you wished. But when you grow old, you will stretch out your hands, and someone else will fasten a belt around you and take you where you do not wish to go." 19 (He said this to indicate the kind of death by which he would glorify God.) After this he said to him, "Follow me." (John 21:15-19)
Far from punishing Peter for denying him thrice, Christ's triple questioning on Peter's love at the lakeside points to the quality of human love he is prepared to accept from Peter, and by extension from us as well.
In the first two questions, the "love" Christ spoke of was agape-love, the word he chose being 

agapas

. Agape love, different from other kinds of love, denotes faithfulness, commitment, and an act of the will. It refers to a sort of self-sacrificing love for others that has later come to be associated with Christian love.  To claim to love in the agape sense, is to commit to following through and proving that love in sacrificial actions. Proving that sort of love means to sacrifice oneself. So Jesus did not only ask Peter if he loved him, but rather if he loved him in such a way that he would sacrifice himself to demonstrate that love.
In both his replies to the first two questions from Christ, Peter said that he did love the Lord, but the "love" Peter spoke of was a friendly, human-love, the word he chose being 

philo

. Why? What was wrong with Peter? Did he not tell Jesus before Jesus foretold his denial, that he would lay down his life for Jesus (John 13:37)? Where has that bragging Peter gone? At this point, Peter knew that he had thrice failed the Lord miserably. Now, this was a Peter who knew his limitations, has felt shame, and been humbled, for talking big about fidelity and commitment but failing to deliver when the crunch came. Now, he could answer frankly and truthfully, with necessary reservation.
Then came the third question. This time, however, after Peter had twice replied in terms of friendly, human love, Christ also shifted to the term 

phileis

, to which Peter replied, "Lord, you know that I 

philo

you." Peter sounded a little frustrated. Perhaps he was saying, in honesty, that he might not be capable of that high standards of fidelity and commitment he was quick to boast about before, yet he was sure that the Lord knew that he was quite capable of a friendly, human love towards Jesus. Or, perhaps Peter was simply frustrated that the Lord, knowing that he could not act out the sacrificial love the Lord wanted to see, has decided to lower the standards on his account.
The question is, why did the Lord alter, as it were, his choice of the word love to a lower key? One way of viewing this is to see that Jesus understands and forgives human imperfection. He met Peter where Peter was in his faith journey at the time, instead of insisting, unrealistically of course, on where he preferred Peter to be at. Furthermore, he knew Peter had the right heart, a heart that could grow, strengthen and improve over time. He saw Peter's potential and was positively hopeful of Peter's future. Peter's very human, and imperfect love at this time was sufficient to Christ. By that change of verbs, Christ put himself at the level of Peter, rather than to demand from Peter what Peter was quite unable to give right at that moment. Christ wanted to equip this previously bragging, and now humiliated and humbled, Peter for a colossal mission. Thus accepted, Peter felt empowered, and could get on with his assigned mission with hope, upon the sure knowledge that however inadequate he might be, the Lord understood and accepted his imperfect love. Now that's reassuring. It's certainly liberating.
In his General Audience on 26 May 2006, Pope Benedict XVI's words clarify our understanding:
"

The school of faith is not a triumphal march but a journey marked daily by suffering and love, trials and faithfulness. Peter, who promised absolute fidelity, knew the bitterness and humiliation of denial: the arrogant man learns the costly lesson of humility. Peter too must learn that he is weak and in need of forgiveness. Once his attitude changes and he understands the truth of his weak heart of a believing sinner, he weeps in a fit of liberating repentance. After this weeping he is finally ready for his mission.

"
Joining Peter, we too must hear Jesus calling us to feed his sheep. From Jesus' accommodation and acceptance of Peter's imperfect love, we too must be consoled that our own frequent denials of the Lord are forgiven by him in love and mercy. And so, in his homily at the Basilica of St Paul Outside the Walls on 14 October 2013, Pope Francis said the Lord's call to feed his flock must be heard by everyone:
"…

we all have to proclaim and bear witness to the Gospel. We should all ask ourselves: How do I bear witness to Christ through my faith? Do I have the courage of Peter and the other Apostles, to think, to choose and to live as a Christian, obedient to God? To be sure, the testimony of faith comes in very many forms, just as in a great fresco, there is a variety of colours and shades; yet they are all important, even those which do not stand out. In God's great plan, every detail is important, even yours, even my humble little witness, even the hidden witness of those who live their faith with simplicity in everyday family relationships, work relationships, friendships

."
On Ash Wednesday, as we are humbled by the ashes from which we came and to which we shall return, we shall not forget that at the end of that episode, after accepting, for now, Peter's human and friendly love, the Lord renewed that crucial call he made to Peter three years earlier, "Follow me." Twice, then, did the Lord call Peter to follow him right at Peter's workplace, his familiar setting, on the shore of Lake Galilee. That second call ought to resound in our minds, our hearts and our souls right where we each find ourselves, at our own "Galilee". Again and again, each time we backslide and fall, the Lord forgives us and calls us to live our Christian life properly in our life setting. That's where we follow Jesus in works of promoting the heavenly Kingdom on earth.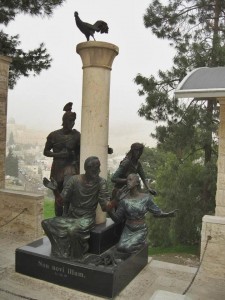 A statue in the courtyard of St Peter's Church in Gallicantu depicts the scene of Peter's denial as the cock crows and  is inscribed "I know him not" (Luke 22:57).
Copyright © Dr. Jeffrey & Angie Goh, February 2018. All rights reserved.
You are most welcome to respond to this post. Email your comments to jeffangiegoh@gmail.com. You can also be dialogue partners in this Ephphatha Coffee-Corner Ministry by sending us questions for discussion.